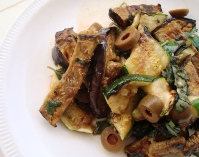 A grilled eggplant and zucchini vegetable salad, inspired by Italian caponata. This medley of grilled veggies is both vegetarian and vegan and gluten-free.
Ingredients:
1 small eggplant, sliced 1/3 inch thick
1 small red onion, sliced 1/3 inch thick
1 zucchini, sliced into 1/3 inch thick lengthwise
Olive oil for brushing
Salt and pepper
1/4 cup fresh basil, chopped
1/4 cup green olives, sliced
2 tablespoons red wine vinegar
Preparation:
Brush the eggplant, onion, and zucchini well with olive oil and season lightly with salt and pepper. Place directly on a well-oiled grill. Heat for 8-10 minutes, turning once, or until vegetables are done.Remove vegetables from the grill and chop into thin strips. In a large bowl, toss eggplant, onion and zucchini with fresh basil, green olives and red wine vinegar, making sure to coat well.Season with additional salt and pepper to taste, as needed.