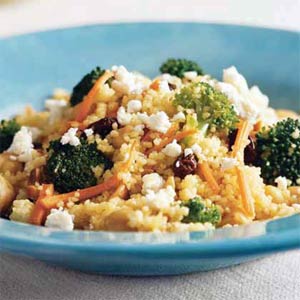 Curried Couscous with Broccoli and Feta
Using bagged broccoli florets and shredded carrots all but eliminates the prep with this vegetarian entrée. If you want to add meat to the couscous, use chopped chicken or thin strips of flank steak.
Yield 5 servings
Ingredients
1 3/4 cups water
1 1/2 cups of small broccoli florets
1 cup couscous
1/4 cup raisins
1/4 cup dry roasted cashews, chopped
2 Table spoons white wine.
1 1/2 tablespoons Olive oil
1 1/2 teaspoon curry powder
1/2 cup finely chopped red onion
1/3 cup shredded carrot
3/4 1 (15-ounce) can chick peas (garbanzo beans), drained and rinsed
3/4 cup crumbled feta cheese
3/4 teaspoon salt
Preparation
Bring 1 3/4 cups water to a boil in a medium saucepan; gradually stir in couscous. Remove from heat; cover and let stand 5 minutes. Fluff with fork.
While couscous stands, steam broccoli florets, covered, for three minutes or until tender.
Combine couscous, broccoli, onion and next 10 ingredients. Toss gently then sprinkle with cheese.
Nutritional information (this is altered with the addition of meat).
Amount per serving (serving size 1 1/4 cups)
Calories 402. Calories from fat: 27% Fat:12.2g Saturated fat:3.8g Monounsaturated fat: 5.8g Polyunsaturated fat: 1.6g Protein: 13.4g Carbohydrate:61.4g Fiber: 7.4g Cholesterol: 15mg Iron 2.7mg Sodium: 827mg Calcium 145mg.