M. Saunders Wholesale Produce has been selling fresh fruit and produce in Southern NH for over a hundred years. Today, the business is in its third generation and continues to strive to sell the freshest fruit and produce for the value.
In 1996,  the business expanded to include pre-cut fruits and vegetables. Many different blends of salad mix, cut vegetables and fruits are available –  all chemical free and certified kosher (KVH). These value added products have the potential to save your business time and money.
It's All About the Service
M. Saunders, Inc. provides service to public and private schools, universities, colleges, healthcare facilities and restaurants in the state of New Hampshire.
M. Saunders, Inc.  offers delivery six days a week and provides our customers with the freshest quality fruit, produce and fresh cut product throughout most of New Hampshire in our state-of-the-art refrigerated fleet.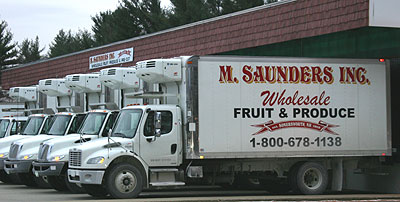 Locally Grown
People are starting to see the health and economic values of eating locally grown food.  M. Saunders, Inc. is always working to get more local farms involved in supplying local produce. In this way, we do our part in supporting local farmers and workers. We also support the schools with our Farm to School Program.
Thanks for taking a closer look at the services we offer!